The Common Thread Quarterly
15 April 2021

Diversity, Equity & Inclusion: Quarterly Common Thread Newsletter
Diversity is a fact. Equity is a choice. Inclusion is an action. Belonging is an outcome. —Arthur Chan

We are proud to launch the Diversity, Equity and Inclusion section of our YMCASHR website. Here you will find a high-level view of the work our Y is actively engaged in to advance equity throughout our community, our Diversity Statement and even an opportunity to sign up for updates regarding these efforts. 
---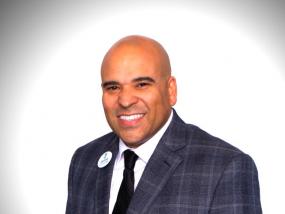 Leading Diversity, Equity & Inclusion
Meet Caleb Cooper, the YMCA of South Hampton Roads new Vice President of Equity and Belonging. Caleb is not new to the YMCA of South Hampton Roads; prior to his current position, he acted as a District Vice President overseeing multiple locations in Norfolk and the Eastern portion of our Y's footprint. Having served in the Y for almost 20 years across multiple YMCA associations, Caleb has experience serving diverse communities. These experiences have molded his ability to understand the many layers of our Diversity, Equity and Inclusion work. Caleb is laser focused on working with marginalized communities, advancing equity in all communities that the Y serves and ensuring we are inclusive FOR ALL. Caleb says "While the YMCA of South Hampton Roads has created this new position, we are not new to this work.  We are formalizing the work to be more intentional about our results."
---
Health Equity Campus (Concept)
The Y has always been more than a gym and swim—filling gaps and supporting critical needs in ways that no other organization can. Against the background of the pandemic, our communities are struggling with an opportunity gap driven by systemic racism. Our YMCA will transform targeted Y's into Health Equity Campuses that are hyper-focused on advancing equity in communities of color, dismantling racial disparities, improving upward mobility and youth opportunity, and making healthy choices assessable for all. 
Together with partners, our reimagined Y's will improve key social determinants of health with a strategic focus on three areas:
Increase Access to Heathy Food
Increase Access to Whole Person Health and Mental Health Care
Break the Cycles of Poverty
We will be starting with three YMCA locations, and are currently working to connect community partners to aid us in achieving lasting outcomes to advance health equity for all. 
---
Employee Resource Groups
The Y's Employee Resource Groups (ERG's) are staff and volunteer led networks, which offer colleagues from all backgrounds and experiences opportunities to: 
Connect and build relationships
Mentor one another
Share knowledge and experiences
Participate in personal and professional development
Enhance leadership skills
Strengthen cultural competency
Inform organizational strategies
Our ERG launched with the Women's Resource Group on Monday, March 8th (International Women's Day).  Meetings will be led by our Chair (and First Tee Executive Director), Rebecca Shuford. Please join our Facebook Women's Resource Group for all of the meeting details. 
---
Collaboration Spotlight—Hispanic Chamber of Commerce
We are proud to launch our partnership with the Hispanic Chamber of Commerce of South Hampton Roads.  We are planning some exciting collaboration opportunities for both organizations to include:
Job postings for bi-lingual staff
Swim lesson opportunities
Financial literacy
Mission Advancement Committee representative (Patricia Bracknell)
Promotional Collaboration
Health fairs
Welcome Week activities 
---
Diversity, Equity & Inclusion (DEI) Champions
We are happy to announce that we have appointed a DEI Champion at nearly every YMCA of South Hampton Roads location. These individuals will be the central person in the building who will:
Receive important information regarding the Y's DEI work, to then take information back to staff teams who will help them coordinate activities, partnerships etc.
Be a great link to any center situation that may require a different lens to help create better solutions
Attend 1-1.5 hour bi-monthly meetings
Receive additional training above and beyond what may typically be asked
Welcome DEI Champions! 
Jane Snyder
Albemarle Family YMCA
Seth Cottom
Blocker Norfolk Family YMCA
TBD
Currituck Family YMCA
Andre Elliott
Eastern Shore Family YMCA
Northampton County YMCA
Ms. T Williams
Effingham Street Family YMCA
Rebecca Shuford
First Tee—Hampton Roads
Becca Tovar
Great Bridge/Edinburgh YMCA
Kathleen Schweighardt
Greenbrier Family YMCA
Valerie Arroyo
Greenbrier North YMCA
TBD
Hilltop Family YMCA
Jenn Penn
Indian River Family YMCA
Laura Jackson
Mt. Trashmore Family YMCA
Catarina Johnson
James L. Camp, Jr. Family YMCA
Cathy Cawlfield
Princess Anne Family YMCA
Frank Klein
Suffolk Family YMCA
Nikki Bailey
Taylor Bend Family YMCA
Preston Jones
YMCA at JT's Camp Grom
Danny Vestal
YMCA Camp Silver Beach
Alicia Wellons
YMCA of Portsmouth
Sarah Cook
YMCA of South Boston/Halifax County
Marland Cook
YMCA on Granby