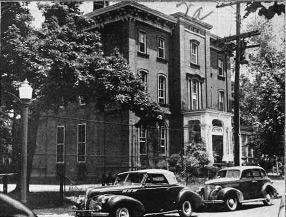 The Y has been a pioneering force in the United States for nearly 160 years. Numerous sports, such as basketball, volleyball and racquetball were invented at the Y, therefore impacting the way people defined healthy and fun activity. Other enjoyable, healthy activities that started at the Y include camping, physical fitness and swim lessons. Through Y programming, the USO, Boy Scouts of America and Camp Fire Girls were all founded, and YMCA volunteers provided support and services to millions of soldiers in many major wars, including the Civil War, World War I and World War II.
Locally, the YMCA of South Hampton Roads got its start in March of 1885 with the first facility located in Norfolk (at top). Over the next 20 years, pools, gymnasiums and fitness facilities brought forth new construction and additional programming. Opportunities for youth to build confidence, families to learn together and adults to stay fit and healthy through activities such as basketball, bible study, baseball, track and football flourished.
Mt. Trashmore was then built in the 70's, followed by Greenbrier, Suffolk and Effingham in the late 80's. The 90's, when Indian River, Greenbrier North and Hilltop were formed, were dedicated to broadening the YMCA's mission and services. To meet the needs of the at-risk population, the YMCA developed the Community Services branch. The next few years the YMCA extended its boundaries to include serving the needs of the Eastern Shore, Outer Banks, Elizabeth City and Franklin communities.
With the support of the Landmark Foundation, the Hampton Roads Community Foundation, City of Norfolk and area civic leagues, the Y has continued to promote healthy activity and programming in our region by complementing our Blocker Norfolk Family YMCA with The Y on Granby. This fully-equipped 32,000 square foot family center will soon sponsor a five-star early childhood development center where children will be exposed to the life skills necessary to make good choices and develop into contributing members of our community. The Y on Granby opened its doors May 31, 2013 and is located at W. 30th Street and Granby, two blocks from the Virginia Zoo.
In 2016 the YMCA of South Hampton Roads celebrated the opening of its 18th location, the Princess Anne Family YMCA. Through a partnership with Tide Swimming and the City of Virginia Beach, the Princess Anne YMCA hosts the only 50-meter Olympic-sized swimming pool in the South Hampton Roads area. With 40,000 additional square-feet of recreational space full of cardio and strength equipment, group exercise classes, and childcare areas, the Y is happy to serve the growing Princess Anne community.
In 2017, the Y partnered with Sentara and opened The Y at Edinburgh in Chesapeake, VA. Future plans include operation of JT's Camp Grom, scheduled to open in 2018 to serve children and adults with special needs.