Paul C. Harris Memorial YMCA Camp Silver Beach Scholarship Fund
Paul Charles Harris
November 11, 1987–September 20, 2006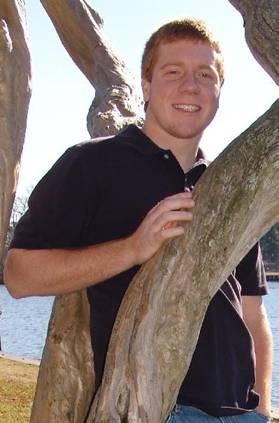 On Wednesday, September 13, 2006 at 10:50pm, Paul Charles Harris was in a serious car accident on Waters Road in Chesapeake, Virginia. On Wednesday, September 20 at 11:36pm, Paul joined the Kingdom of Heaven. His family includes his mom and dad Cindy and Chuck, his sisters Hillary and Emily, his brothers-in-law Jeff and Matt, his nephews Morgan, Devin and Harris, and his nieces Ella, Catherine and Gracelyn.
Paul's memory can now continue to be honored through the memorial fund started in his name. He would be extremely happy to know that children will be able to experience the love of camp as he once did because of these donations.
The Memorial Fund
More than 400 gifts have been made to Paul's memorial fund. These gifts are invested with the YMCA of South Hampton Roads endowment in a designated fund. Over the coming years, this fund will grow and provide financial assistance to hundreds of children so they too can attend YMCA Camp Silver Beach. Selected children will have the opportunity to learn a little about Paul and the generosity of friends and family who contributed to the endowment fund in his memory. They will be able to climb a high ropes course, sail, water ski, swim, skate and most importantly, make long-lasting friendships.
About Paul
Paul's love for the outdoors was evident in his time spent at YMCA Camp Silver Beach. At the age of 18, his memories included those of his camp adventures: family camp, Boy Scout leadership, climbing the tower, sailing, fishing, playing soccer, skiing, kayaking, enjoying camp fires, swimming, games and cherishing his friends, new and old.
Paul also completed his Eagle Scout project at YMCA Camp Silver Beach, building a gateway, benches and trash containers on the pathway to the Blocker Environmental Center.
Paul's Legacy
Paul's spirit remains strong through the donation of his organs. He decided to be an organ donor when he first received his driver's license. Twenty-four hours after his passing, with the help of LifeNet Health, Paul's liver and two kidneys were able to be transplanted in three other people.
Paul's organ, eye and tissue donations have helped 69 people. Other tissues and bone were viable for others to use over time. This gift that Paul gave continues to sustain his family and friends.